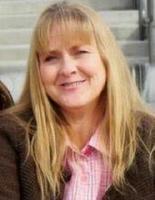 Pamela June Schow, 57, returned to the arms of the Savior and her loving parents on March 14, 2020 in Provo, Utah, due to complication from pneumonia. Pam was born to Stanley and June Schow on June 19, 1962 in Page, Arizona.

Pam lived her early years in Page, Arizona, while her father worked on the Glen Canyon Dam. In 1967 her family moved to Duchesne, Utah where her father helped build Starvation Reservoir. Pam loved growing up in Duchesne and made many lifelong friends. She graduated from Duchesne High School in 1980.

In 1985 Pam moved with her parents to Provo, Utah, where she spent the rest of her life in a beautiful home on the Provo River. In this life she had many gifts and talents. She loved to work in the yard and could grow almost anything. She was an artist and spent hours painting and creating beautiful artwork of all kinds. Children adored her. Pam loved cats and it was not uncommon to find several curled up on her porch knowing she would feed and take care of them. Like her mother, Pam was an excellent cook and loved trying new recipes. She was stubborn and determined to do things as independently as possible. Pam had a quick wit and a saying for about everything, claiming she learned them all from her dad. She will be greatly missed by so many.

Above all, Pam was a good friend to many and a faithful daughter of her Heavenly Father. She had a strong testimony of the gospel of Jesus Christ and the plan of salvation. She looked forward to the day when she could return to her Father in Heaven and be free from the trials and physical challenges she faced every single day. She did her best and endured gracefully to the end.

Pam is survived by her sisters Sharlotte Ivie, Duchesne, UT; Karen Stannard, Oceanside, CA; Connie (Brett) Anderson, Malta, ID; and many nieces and nephews. She was preceded in death by her parents, Stan and June Schow; brother-in-law Kieth Ivie, and nephews Ryan Ivie and Britton Ivie.

Special thanks to her neighbors and the members of the Lakeside 4th and 6th Wards for the hours of love, care, service and friendship you gave to Pam for many years.

A graveside service will be held on Friday, March 20, 2020 at 1:00pm at the Duchesne City Cemetery. Condolences may be offered to the family at www.walkersanderson.com.
https://www.tributearchive.com/obituaries/12448624/Pamela-June-Schow?fbclid=IwAR0pC4jhlhIzkYpyK6SK9tDsoSsYXkPrzip_NsBALZ8RkyS60-tUOGrzPIE